By Andrew Hertzberg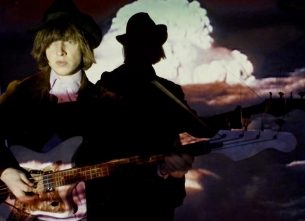 Jacco Gardner
Tuesday, March 19th: Jacco Gardner at Empty Bottle
(9 PM, 21+, $10)
The 24-year old Dutch multi-instrumentalist makes his Chicago debut. His Baroque pop sound veers towards the psychedelic, crossing the Zombies with Pet Sounds-era Beach Boys, and no lack of long-lasting hooks. His impressive debut album
Cabinet of Curiosities
is out now on
Trouble in Mind
.
Wednesday, March 20th: Chris Cohen at Empty Bottle
(9:30 PM, 21+, $7 adv/$10 dos)
Chris Cohen is an artist with similar RIYLs to Gardner, but with quite a few more years of experience on him. He's worked with Deerhoof, Cass McCombs, White Magic, and a slew of others, a resume that has helped influence his experimental-pop sound.
Thursday, March 21st: Local Natives at Empty Bottle
(4:30 PM doors, 21+, FREE)
No sophomore slump here.
Hummingbird
is fantastic follow up to 2010's
Gorilla Manor
. The LA band plays a sold out show at the Vic later this evening, but you have a chance to see 'em for free in a more intimate space earlier on. Full details on Empty Bottle's
website here
.
Friday, March 22nd: Darwin Deez at Schubas
(10 PM, 21+, $12)
Darwin Deez makes deceitfully upbeat music, due to the introspective and often gloomy subject matter of the lyrics; yet you still want to dance. Check out a
previous live review
from Bobby.
Saturday, March 23rd: Shapers at Hideout
(9 PM, 21+, $8)
There is way too much going on tonight. Shapers hold a dear spot in my heart though, making a long-lasting impression the first time I saw them live. They've been quiet recently, but did
drop a new song
about a month ago. And Chandeliers headlines? Can't lose.
Sunday, March 24th: Victor Villarreal at Burlington
(9 PM, 21+, $5)
Former Cap'n Jazz and Ghosts and Vodka guitarist explores shape-shifting guitar riffs that are bound to leave you scratching your head in wondrous curiosity of how he makes it sound that pleasant.
Monday, March 25th: Delicate Steve at Subterranean
(8 PM,17+, $10)
The New Jersey five-piece surprised late last year with their second album Positive Force, an album full Afro-influenced pop music that'll remain in your head for days after first listen.