By Andrew Hertzberg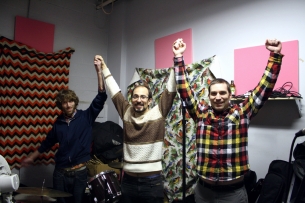 The Nothingheads
Tuesday, June 12th: The Nothingheads at Empty Bottle (9 PM, 21+, $8)
The three-piece
Nothingheads
skim the line between punk-pop and '90s lo-fi indie/emo in the vein of Archers of Loaf or the Dismemberment Plan. Simultaneously dirty and clean, they promise to be a fun time live.
Wednesday, June 13th: Paul Cary and the Small Scarys at the Burlington (9 PM, 21+, $5)
Psychobilly seems to be a dying genre, but Paul Cary is at least one who's trying to keep it alive. Listen to
Ghost of a Man
in full on
Candy Dinner.
Thursday, June 14th: Audiences at Lincoln Hall (9 PM, 18+, $10)
Audiences have been making some fine indie rock for awhile now. They don't try anything too fancy (the four piece likes to stick with their guitars/bass/drum combo), but can fashion a fine melody with dramatic peaks and valleys, as on recent single '
Ghosts
.'
Friday, June 15th: Richard Lloyd at Double Door (7:30 PM, 21+, $10-$30)
I know we usually try to keep this to local bands, but this is Richard Lloyd we're talking here. One of the original members of CBGBs proto-punks Television, he's been making music for nearly forty years. Check out a legend.
Saturday, June 16th: Chicago Sonic Coalition at Situations (8 PM, AA, $donations)
The time has come! A few months ago, 64 local musicians created 17 new bands. Some split up, but many carried on. Check out the mini-DIY-fest that features members of ONO, Paper Mice, Magic Milk, Heavy Times, T'Bone and many more. Full info can be found on
Gonzo Chicago
.
Sunday, June 17th: Rabble Rabble at Double Door (8 PM, 21+, $10 adv / $12 dos)
Rabble Rabble's been hard at work on some new material. Nothing released yet, so you can only hear the psych-punk group's stuff live. What a bummer, right? Watch out for flying beer.
Monday, June 18th: Volcano! at Empty Bottle (9:30 PM, 21+, FREE)
The record release show for the dance-pop trio's third album,
Piñata
(already streaming on
bandcamp
). While they certainly have a fractured, spastic and math-rock sound, they
talked with SPIN
recently about the influence of Top 40 radio on the new album.